On just about every day during the first week of each month in the Bay Area, a different world-class museum opens its doors for free to visitors. Though most museums are normally reasonably priced and several (The SFMOMA, Asian Art Museum, and California Academy of the Sciences) offer discounted admission rates on Thursday nights (the $10 lively NightLife events at the CAS are a bargain), travelers and residents alike shouldn't pass up a chance to visit some of the best museums on the west coast free of charge. (The SF zoo only allows city residents to partake in its pseudo-free days, but there are many parts of the city that feel like a zoo, and some of which are just as depressing as the actual zoo. If you like seeing confined animals and are headed down south, it may be worth your while to visit the Monterrey Aquarium and the San Diego Zoo; also, Los Angeles is the largest and most deranged zoo in the world.)

The onslaught of free museum days this month begin today, Wednesday, April 1:
The Exploratorium, an impressive structure that appears to have been excavated from Rome and vibes like a giant science fair inside, is probably the best museum in the city to go to while under the influence. Grab some new hostel friends and pick your poison. You can always pass-out on the lawn.
On the first Sunday of each month, the Asian Art Museum is free. The mind-blowing sculptures, artifacts, and relics housed with this tremendous museum, arguably the best in San Francisco, will have you forget that the free day is sponsored by Target. If you can't make it on the first Sunday, try to swing-by on a Thursday evening after 5pm when admission is $5 and the place is virtually empty.

The first Tuesday of each month (In April, 2009, it's the 7th) offers the motherload for the museum freeloader. The MOMA, Palace of the Legion of Honor, De Young, Conservatory of Flowers, and some other great venues are on the house.
The MOMA, also open late and half-off after 5pm on Thursday nights, is supposedly a good place to pick-up a date. (This could explain why the Asian Art Museum, and probably Target, are dead on Thursday nights.) It also has art:
The Palace of the Legion of Honor is magnificent and contains some of California's finest paintings, though depending on your palate, you may walk away feeling incomplete. If that's the case, keep on walking straight toward the Pacific Ocean. The Museum is located on the tip of San Francisco and is surround by forests and cliffs that drop hundreds of feet into blue ocean waters. The Land's End hikes offer an unmatched view of the city, bay, and Golden Gate Bridge that trump the museum entirely.


Great museum: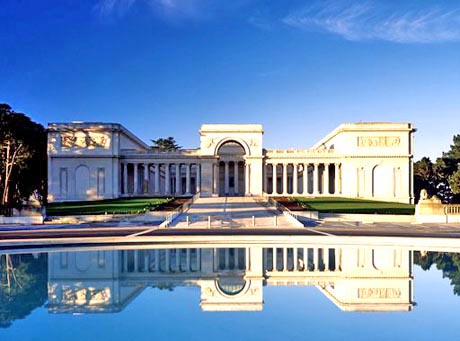 Killer views:
Ask the friendly GT hostel staff about free museum days, where to party after sundown, and other ways to enjoy yourself in one the best cities on the planet.

For more information on Free Museum Days, check-out this webpage: http://sanfrancisco.about.com/od/museums/ss/freemuseumdays.htm
The above photographs, in corresponding order, are from the following sources:

The Exploratorium - http://www.cvent.com/destination-guide/san-francisco/
The Asian Art Museum - http://sanfrancisco.about.com/od/museums/ig/sanfranciscomuseums/asianartmuseum.htm
The SFMOMA - http://sanfrancisco.about.com/od/museums/ig/sanfranciscomuseums/sfmoma.htm
The Palace of the Legion of Honor - http://lastheplace.com/2007/11/23/san-francisco-hosts-exclusive-marie-antoinette-exhibit-at-the-legion-of-honor/
The Land's End view - http://www.greenlightwrite.com/sanfrancisco.htm